Via Savona, Milan, 20144, Lombardie, Italie
Afficher sur la carte
Bright and cosy two-rooms apartment on the second floor in a strategic area of the city, well connected to main tourist attractions. The kitchen is complete with dishes and appliances: fridge, dishwasher, induction hob, and microwave. The sleeping area consists of 1 bedroom with 1 double bed and 1 sofa bed. The apartment is for non-smokers only and is provided with wifi, television, washing machine, and lift. It's also equipped with hair dryer, iron and ironing board, towels and bed linen for the whole duration of your stay. The house is at your complete disposal and we've put care in every detail in order to welcome you in a clean and comfortable space, whether you're staying for business or just passing by to visit the city. You're welcome, take care of it! To arrange check-in you must contact our Customer Service to confirm place and time of arrival. To pick up the keys, tell us which is the best option for you. - From midday to 21 at our WELCOME POINT TICINESE with access to the apartment from 15. We are in via Trincea delle Frasche 1, window facing the street at 5 meters from the street number 1. Free luggage storage from 10 to 20. - From 15 to 21 directly at the apartment after taking an appointment with our Customer Service. We remind you that at check-in you will have to pay the Milano tourist city tax of 3,00 € per person per night. CIR: 015146-CIM-02554 Registration Number: 015146-CIM-02554
Voir plus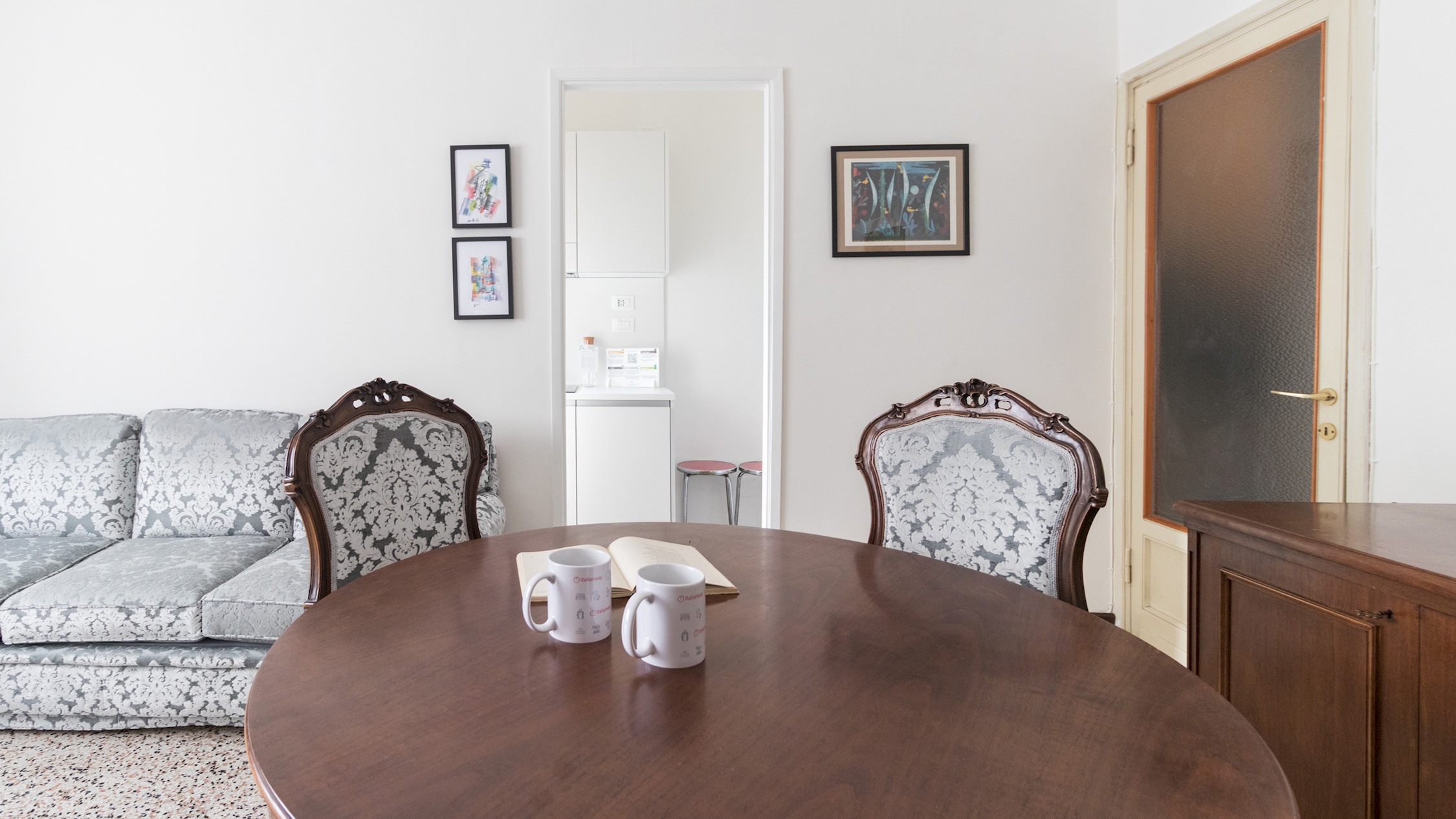 10 Découvertes dans les 1000 m
Afficher la carte
Chambre (2 lits, 1 salle de bain)
Politique de l'hôtel
Arrivée et départ de l'hôtel
Enregistrement
à partir de 15:00
Départ de l'hôtel
avant 11:00
À savoir
Informations importantes sur la ville
[16 janv. 2022 - 31 déc. 2022] According to the new Decree-Law, starting from the 10th January 2022, access to the following hotel facilities is allowed ONLY to guests with Covid-19 certification Super Green Pass: - Indoor bars and restaurant; - Indoor Wellness center, indoor gym and swimming pool. Super Green Pass is also mandatory to attend meetings and events and to enter meeting rooms(The possession of the Super Green Pass is mandatory to access the accommodation facilities for some hotels. For details, please contact the hotel).
Description de l'hôtel
Bright and cosy two-rooms apartment on the second floor in a strategic area of the city, well connected to main tourist attractions. The kitchen is complete with dishes and appliances: fridge, dishwasher, induction hob, and microwave. The sleeping area consists of 1 bedroom with 1 double bed and 1 sofa bed. The apartment is for non-smokers only and is provided with wifi, television, washing machine, and lift. It's also equipped with hair dryer, iron and ironing board, towels and bed linen for the whole duration of your stay. The house is at your complete disposal and we've put care in every detail in order to welcome you in a clean and comfortable space, whether you're staying for business or just passing by to visit the city. You're welcome, take care of it! To arrange check-in you must contact our Customer Service to confirm place and time of arrival. To pick up the keys, tell us which is the best option for you. - From midday to 21 at our WELCOME POINT TICINESE with access to the apartment from 15. We are in via Trincea delle Frasche 1, window facing the street at 5 meters from the street number 1. Free luggage storage from 10 to 20. - From 15 to 21 directly at the apartment after taking an appointment with our Customer Service. We remind you that at check-in you will have to pay the Milano tourist city tax of 3,00 € per person per night. CIR: 015146-CIM-02554 Registration Number: 015146-CIM-02554
Vous n'avez pas encore trouvé l'hôtel idéal ?